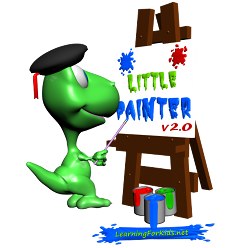 We have provided further versions of our sensational program for painting for children and we look forward to your next proposal of new features. We think that the new features and modifications Little Painter v2.0 has made the program easier and more functional.
Here is a list of all the changes in version 2.0:
- Added tool Spray
- Added easier reading and writing of the project
- Added sound effects to performed operations
- Added option to display a slideshow of the files in the selected directory
- Added option to preview image full screen
- Added option to shift, rotate and scale the image
- Added support to read and write TGA files
- Added expert mode (full screen)
- Improved smoothness of the effects
- Fixed minor bugs in the program
- Added option to redo

Also, soon will be our first 3D game that will have almost everyone hooked up for hours. For now, we can't disclose any details, because we like to give the children a surprise.

But that's not all, we plan to add new materials to the site and create equally popular and creative programs like Little Painter. We hope to succeed quickly as possible and be known throughout the world as the best children program in its category. We ask our fans for patience and invite you to like our fanpage for those who still haven't liked it.